Rooted Vegan Cuisine, is determined to show that healthy eating, plant-based foods doesn't have to be intimidating or unsatisfying. Extending that mission statement, the founders of Rooted Vegan Cuisine, Naomi, co-owner and head chef, alongside her husband Mike, brings back the Vegan Family Reunion to bring together at the intersection of Black equality and veganism. Naomi's dream to bring this event to fruition not only happened last year but managed to exceed expectations! The 2nd Annual Vegan Family Reunion will be held on March 6, 2022, 12 pm – 5 pm at the San Antonio Food Bank.
"I think there is a common misconception that vegan food is all salads and other unappetizing options", states Naomi. "I wanted to bring together so many of the businesses that I love that are also out here shattering the stereotypes about what vegans eat and also look like.
The Vegan Family Reunion uplifts, supports, educates, and most importantly, brings joy to the local community.
Through this event, we will fundraise to pour generously into the Black community through Black-owned businesses, artists, and charities, while highlighting the benefits of veganism and the direct impact this movement has on the Black community.
Scientific research consistently shows that eating a plant-based diet can improve one's health in so many ways. For the Black community especially, incorporating more plant-based meals in our diet is vitally important since we suffer from higher rates of diabetes, heart disease, high blood pressure, strokes, and the highest mortality rate of all cancers combined."
By setting up the Vegan Family Reunion as a Black-owned market, Naomi, Mike, and their team are able to showcase to everyone, with the focus on the black community.
In addition to the health aspects, they celebrate the contributions Black businesses, artists, educators, and entertainers have to offer this great city. They will be combining authentic flavors, music, and talents to share in the joy of it all to bring to the San Antonio community as a whole. They will also have a Breastfeeding Lounge, Special Needs Lounge, and Sign Language Interpreter.
Simultaneously, they will be fundraising for two amazing local organizations, Black Freedom Factory and Black Outside Inc. They are hosting an art auction and two raffles to help support the important work they are doing. To donate or participate, go to www.veganfamilyreunion.com.
Another way to contribute is to pre-order a 'VEGAN FAMILY REUNION TEE' they made in collaboration with Plant-Based Drippin.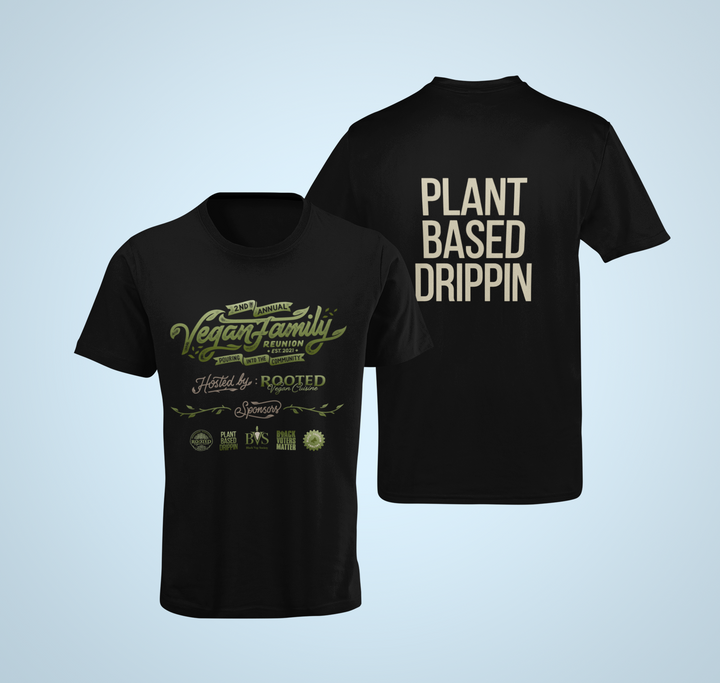 This is the official shirt for the 2nd Annual Vegan Family Reunion happening on March 6th. *ORDERS MUST BE PLACED BY THURSDAY 2/17*
Proceeds from the sale of each shirt will be donated to the San Antonio Nurse Midwife Black Birth Fund, one of less than 10 Black-owned birth centers in the US that actively work to provide a SAFE place for both birthing person and baby to be cared for. **The statistics regarding Black birthing people's journey through traditional hospital settings are horrible and Nikki is proving daily that there is a better way.**
To learn more about the Reunion or the fundraiser visit www.veganfamilyreunion.com.